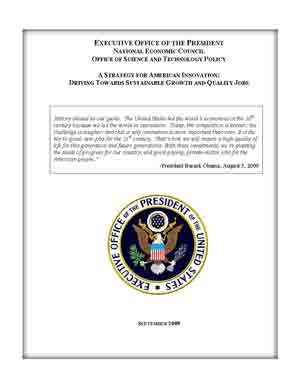 This is in response to a radio mention of President Obama's plan to discuss his innovation initiative in the State of the Union address.
Dear President Obama;
Okay, I'm not your biggest fan. You almost had me during the campaign, but lost me soon after you took office. That said, I'm president of a boutique innovation-consulting firm that helps primarily Fortune 500 companies pursue their innovation agendas and goals. So I have been interested and largely supportive of your initiative for "A Strategy for American Innovation: Driving Towards Sustainable Growth and Quality Jobs."
I'm not going to quibble about the parts I may not fully support, or the places where other agendas have been rolled together under the cover of innovation. By and large I support your efforts, and agree with much of your rationale and strategy. We all know that government is not going to be the driver for the U.S. regaining leadership in the global innovation arena. But $100 Billion in investments directly or loosely tied to the effort can't hurt. So I thank you and I wish this effort all the best.
For once, my concerns are with poor strategy, poor execution and wasteful spending in the private sector – business. Especially BIG business. We work with these companies all the time. From our perspective, there are three kinds of companies when it comes to innovation: 1) Those that know they have a problem and do what it takes to fix it, 2) Those that know they have a problem, talk a good game for change but don't do what it takes to succeed, and 3) Those that don't even realize they have an innovation problem. Of course there is a fourth category, those companies who already are good at innovation. But there tends to only be a handful at any given time… and that handful changes (when was the last time you heard that 3M, Rubbermaid, or Intel was booming because of great innovation?).
We love working with the first group (which is a fairly exclusive club), hate working with the second, and only have a few minor engagement with the third. Your white paper mentions "A short-term focus…" and "…neglected essential fundamental investments." Right on! The truth is that our economic system, our reliance on quarterly numbers for Wall Street, and our focus on management rather than leadership conflicts with our ability to be innovators. Our lack of ability in innovation can be traced back throughout our educational system, and is reinforced by how we are incented and our metrics for success. That's another story.
So here are a few bits of advice from the front lines of innovation.
If we are truly going to recapture a leadership in innovation, our enterprises (public and private), need to understand the Nine Critical Success Factors for Innovation available at http://www.creativerealities.com/learn-the-9-critical-success-factors-of-innovation/.
While they are all important, our business leaders need to pay special attention to the first five. And business leaders must learn that to be leaders, they have to put some of their own "skin in the game". They have to be appropriately present in this initiative. Senior leaders can't try to protect top management from the initiative.
They all have to realize that this involves

change

. Don't embark on creating a new culture of innovation if you are going to demand people do things the same way they have done them in the past. That's the point.
The most frustrating thing we experience in working with our clients is that while companies come to us saying they understand they need to change, and that's why they hire us, at multiple points along the way, the existing infrastructure, established process, and culture smashes down on the new thinking and continually pushes for the old ways over the new. Business leaders who truly want innovation must constantly support the forces of change and provide "air cover" until those changes become the new norm and are capable of supporting themselves long-term.
Throwing money at this problem by itself will not achieve the desired results. Money will help, especially in areas like basic research. But the only way we are going to regain our position of leadership in innovation is to begin to act like leaders – creating our vision of an innovative future, setting an agenda for achieving it, putting real "skin in the game" and changing the way we operate and make decisions. It can be done, but not without some real and sustained effort.
Good luck!