The world is constantly changing. As it does, business models and business processes, need to be reviewed holistically in order to ensure they are optimized for the current state of the world. In spite of this obvious need most business models either remain static until dramatic change is needed, or they evolve piecemeal, with elements bolted on to serve some particular need of the moment. Over time, business models can become cumbersome, inefficient and laden with redundant costs and/or aspects that add cost, but that no longer add value. When seeking to become more competitive or to reduce costs while maintaining value for the customer and consumer, the business model needs to be re-examined. A visual map helps to clarify the individual elements, the process flow and the value chain of a business.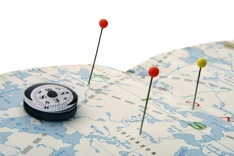 Business Model Mapping is a cross-functional, senior-management-level process where the current operating model is made unusually visible in an unconventional way. It provides for creative problem solving and decision-making that engages management behind one aligned vision for change, to better meet customer needs in light of fiscal and human resource constraints within a new competitive framework.
It begins with the creation of a map of how the organization functions today. A clear, concise visual map is created of the entire business process and all the inter-relationships and dependencies. With the map in hand, the team then identifies which elements are important to the value chain and competitiveness of the model, and which should be revised to enhance value and/or reduce costs without sacrificing value or competitiveness.
This evaluation leads to a second map created of the ideal business model in light of today's market dynamics and the trends that will drive change in the near future. It all begins with the customer/consumer, and then maps backwards to the desired end-state for today and the future. Everything is focused on a streamlined, integrated business model with the sole goal of serving customers better and more profitably than competitors.
Watch our President, Jay Terwilliger, talk more about Business Model Mapping: