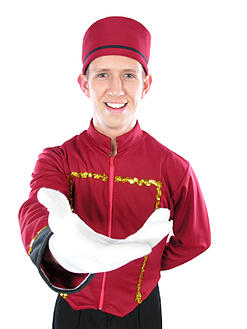 A critical aspect of what we do – managing the Front End of Innovation – is process management, a.k.a. facilitation. In order to empower our clients to build a sustainable capacity for innovation, we have to fully engage them. Doing so involves taking the process out of our clients' hands so that they can focus on the content, the newness. To this point, we like to say, "You have a passion to implement what you help to create." This mantra is why we've been named the Innovation Management Collaborative. They actually have to have a hand in coming up with the solution - doing it for them doesn't carry the same weight, and threatens the success and longevity of new ideas.
Normally, our engagements begin with an Innovation Diagnostic – an assessment of what's working and what's not in regard to innovation within an organization. From there we design a program tailored to achieve breakthrough innovation appropriate to the needs, competencies and aspirations of the client company. On occasion however, we come into an innovation effort midstream. Last week, I went out with a team to help a terrific client of ours run a leadership (top 40 people in the organization) strategy alignment session. They had already done the majority of the planning and needed someone to manage the process (so everyone could participate) and offer some strategic insights at the pivotal moments to move from one activity to the next. No problem – right in our wheelhouse. This will be a piece of cake.
Well not exactly. Let's be clear though, the meeting went very well. The senior sponsors got what they wanted (input from the group around the strategic direction). However, from our perspective as innovationists, we left with some significant insights garnered from running a process that was not our own. Here's what we learned:
When you run the process of a meeting, whether you designed it or not, it will be assumed to be yours. Be prepared to get questioned about the reasoning behind doing it this way versus that. This means you must ensure that you've elicited this rationale from your client, so you don't have to continually redirect mid-session, putting the sponsors on the spot time and time again.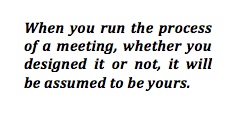 Another thing that came up here was that the group was bothered by the amount of boldness, or rather the lack thereof, that was coming up in the offers. As much of the group had worked with us before, they wondered why they weren't getting to the same level of newness. The process, their process, was set up to get to the big strategic decision points that they needed, not to invite unique offers. Newness and stretch are not built into this strategic planning process, nevertheless it was seen as our process because we were running it, and thus the absence of boldness was evident.
This experience also presents for us a bit of an existential conundrum, as facilitation is but a small (nonetheless important) piece of what we deliver for our clients. For these guys, we'd do anything, but where do you draw the line?
For us, this has started a pretty deep conversation, and I would love to hear how others have dealt with similar situations.
- Clay Maxwell (@bizinovationist)