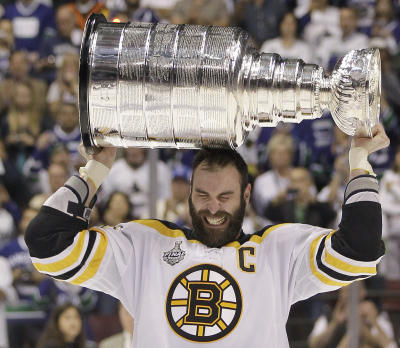 The Stanley Cup is back in Boston where Bruins fans know it belongs! There are lots of good reasons why it's back this year, mostly a credit to the outstanding play and heart of the team. And for fans it's been a LONG TIME COMING BACK!
As an innovator, my belief is that it would not have happened at this point in time if it wasn't for Robert Kraft and Bill Belichick and the New England Patriots. Why? Because innovation is about change. Change is hard. It's not something you wish for or want. It's something that comes only with a focused drive and passion to succeed. That's why our #1 Critical Success Factor is about having a "Compelling Case for Action."
The Boston Bruins last won the Stanley Cup in 1972. The Jacobs family purchased the Boston Bruins in 1975. As owners of The Delaware North Companies, they operate concessions. They sell the hot dogs, the beer, and the nachos in stadiums and theaters. So when they bought the Bruins in 1975, and the Boston Garden, they bought a venue and a team that drove people to buy food and drink. As long as there were fans coming to the games, this particular investment paid off quite nicely. It didn't really matter if the team won another Stanley Cup or not. I'm not saying that they didn't want the team to win it all again and again, but there was no compelling reason to focus everything toward that goal as long as the fans showed up and the beer flowed.
If you have lived in Boston during this period you are acutely aware of this. Fans have been talking about it since the late '70's. So what changed? In 2001, the Patriots, lead by Kraft and Belichick not only won a Superbowl, but demonstrated to this town that they were "in it to win it!" Not once, but as often as possible! Winning two more in the next three years. And the New England sports fan base got hungry.
In 2002, The venerable, and long-suffering Boston Red Sox were purchased by John Henry and New England Sports Ventures. No longer a care-taker ownership, this was an ownership group that wanted to follow in the Patriots footsteps and bring the Championship to Boston. And they pursued that task. In 2004, after an 86 year drought, they won! And Boston now had two World Champion teams in one year. They also are "in it to win it" winning again in 2007. Adding even more pressure to other Boston Sports teams.
Enter the Boston Celtics. Another Boston Team that hadn't won in a while. But a former dynasty with a great heritage. They dominated basketball in the 50's and into the 80's under Red Auerbach's leadership and a host of Hall of Fame legends. They lost their touch for almost three decades. Then in the 2007-8 season, ownership and management seemed to have had enough. They put together the Garnett, Allen, Pierce "Big Three" and won the Championship again in 2008 -- remaining a strong contender every year since that time, including a heart-breaking loss to the perennial rival Lakers in 2010.
So if you are the Jacobs during this period, what would you do differently? My theory is that there was now a "Compelling Case for Action" for Boston Bruin ownership, management and players. It became time to stop "wishing" and "wanting" and focus on joining the rest of the major Boston sports teams as World Champions. They hired Peter Chiarelli to be the General Manager, They appointed Cam Neely as VP in 2007 and made him President in 2010. They brought in Claude Julien in 2007. They've bolstered the player list and began to catch the eye, hearts, (and sometimes frustration) of the Boston fans. They made a good run at it in 2010, although suffering an epic defeat in the Eastern Conference finals. Now they have won it all!
So what does winning the Stanley Cup tell us about innovation? It is a clear demonstration that if you really want to make change happen (which is what innovation is all about), it won't come from wishing and wanting. It comes from the #1 Critical Success Factor -- You must have a compelling Case for Action! If you want to understand more about what makes innovation successful, download our 9 Critical Success Factors from our website -- www.creativerealities.com.