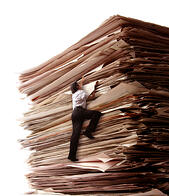 "OK, fun's over gang. Yeah, yeah, we've got a billion new ideas, whoop-de-doo, now how on earth are we going to get to a number we can actually do something with?"
There comes a time in the invention cycle when you must go from many ideas to few. This is a difficult transition to make. We fight so hard as facilitators of brainstorm sessions to first get the participants to stretch themselves and come up with as many ideas as possible. We then tell them to flip the switch and leverage a completely different skill set to cull down those ideas, which we have, by design, made them love equally (in theory).
So, how do we do this? Firstly, not everyone is involved. While consensus has its place in decision-making, it can't get to the hard answers – and narrowing down ideas elicited by the group is one place where group decisions would never get anywhere. So, elect one or two people – in our case this is typically the client – and call a break.
This does not mean everyone's voice is not heard. Elicit input from the full group before narrowing down. We like to have everyone look back over the ideas that they came up with and vote for their favorites – we often have them select a number of both "just do it" and "exciting but need work" ideas to get short and long term candidates.
Then, from the top vote-getters the client(s) select a manageable number of ideas to take forward per the task – manageable in this instance means what the group can develop into more detailed concepts (one to two pages detailing the idea, its target customer/user, the need, etc.), thus it will vary! But, it's generally no more than a dozen.
Then what? After the dozen or so concepts have been fleshed out, then you have to sort the ideas again. Nothing is getting left behind here, but it's extraordinarily rare that a company can move ahead on 12 ideas at the same time. So, here you have to get more specific with how many can move forward to proper testing. This means getting more specific with the criteria. Typically these criteria for advancement include an estimate of the size of the market opportunity, the potential impact, and the fit with the company's strategy (for more see Jay's post on the SNIFF test). For these concepts we like to use the stoplight metaphor. Green light ideas that are a "go", red light ideas that are a "not now", and yellow light ideas that need work before they can fit into either red or green. Once you've worked through all the yellows then you've got your work items (green) and a list of promising concepts in your back pocket (the reds). Define some next steps and it's off to the races!
How do you sort through the many ideas? Have you tested out different methodologies? Would love some feedback on the above as well as your own personal experiences with sorting!
-
Clay Maxwell
(
@bizinovationist
)