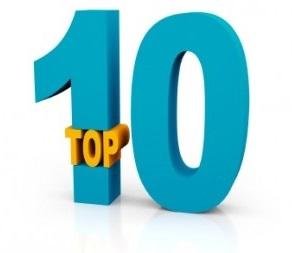 Bon Friday to our favorite blog readers!
Here's a recap of the most retweeted tweets from some of our most prolific, provocative, and overall awesome Business Innovationists here at Creative Realities.
So settle in to your beach chair, pull out a cold soda from the cooler, and enjoy a light read on this gorgeous August day.
BUSINESS MODEL TOOLBOX FOR iPAD
Toolbox for iPad combines the speed of a napkin sketch with the smarts of a spreadsheet. It enables you to map, test, and iterate your business ideas — fast. http://bit.ly/jY55KG
CAN IMAGINATION BE TAUGHT?
At Stanford, there's a new school, the d.school, whose defining mission is to foment personal transformation. Founder David Kelley, a guru of ingenuity and intuition (IDEO anyone?), loves any scenario in which students are collaborating, the more radically the better, and prototyping their imagined solutions using everything from mallets and pliers to cameras and laptops. http://bit.ly/hoMmZz
EMPHASIS ON INNOVATION COULD BOOST U.S. ECONOMY
In a sluggish economy with slow growth and high unemployment, innovation may be part of the solution. http://n.pr/n57Ake
ANGRY BIRDS AND OUR CONTINUED FLAILING ATTEMPT AT INNOVATION
It's not that America has lost its ability to innovate. The problem is that the smartest entrepreneurs of our time are making iPhone apps instead of creating important businesses that drive growth and jobs. http://bit.ly/reMmG2
BRAINSTORMING IN A DIGITAL WORLD (PART 1 & 2)
Despite its revolutionary brillance, the Digital World still nees the human brain to come up with ideas. The key is finding ways to use its tools to bring disparate people - by space, by geography, by ideology - together mentally to facilitate their creative skills. The good news is that the tools improve every day, and will only get better. http://bit.ly/pgPAzS
THE AGILE ENTERPRISE: FERTILE GROUND FOR INNOVATION
Enterprises with malleable IT infrastructures enable organizations to profit from organic innovation and make it easier to achieve new composite products not yet conceived. http://t.co/5cJCNYJ
IS INNOVATION ENABLED BY A PROCESS?
Many an innovation consultant, author and commentator examine the question of innovation and process. It is a conundrum, certainly. Can something that relies on creativity, on passion, on insight be improved by something that defines a methodology or framework? http://bit.ly/quWyvB
WHEEL OF CONCEPT
Seizing on the zeitgeist, digital agency Tribal DDB has decided to poke some fun at the range of trendy techniques and shiny tricks that seem to be rehashed again and again. The Wheel of Concept spits out ready-to-pitch PDFs that outline, in perfectly vague terms, how each idea can boost whatever client or product you desire. http://bit.ly/nF6l3l
CREATIVE INSIGHTS FOR DISRUPTIVE INNOVATION
Blue Ocean Strategy provides a systematic approach to making the competition irrelevant based on 6 principales: reconstruct market boundaries, focus on the big picture, reach beyond existing demand (non consumers), get the strategic sequence right, overcome organizational hurdles, and build execution into strategy. http://bit.ly/nSCK7v
THE NEW -AND MORE PROFITABLE- WAY TO LOOK AT OPEN INNOVATION
Open Innovation generated a great deal of irrational exuberancein its early days. Like Artificial Intelligence, Virtual Reality, and the Internet itself, OI was believed to be a "next best thing." But excessive hype rarely matches future success—just think of Virtual Reality—and Open Innovation has admittedly lost some of its original luster. So why can't we let it go? http://read.bi/rij28B
Posted by Amanda Hines, Business Innovationist, @amandaehines