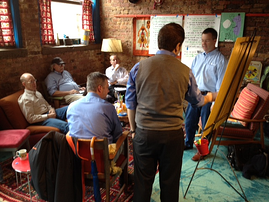 Last week we led a client team through two and a half days of inventing. This brainstorming session marked a pivotal moment in the work we'd been doing over the previous three months gathering insights about the forces at work in the space around their industry. The Invention Session is one we describe as "invigorzhausting" (one of the client team countered with "exhaustorated") because of the extended amount of time we ask them to be "on" coming up with newness.
To keep everyone at a high level of productivity for the full 2.5 days, we have to pull out all the stops: creative exercises, excursions (i.e. think about something entirely different for a minute…), physical breaks, high-energy facilitation, joke-telling etc.
But one hugely important factor, far too often overlooked, is the role the space itself plays in stimulating and energizing the group. We have some standards that we look for in any space – natural light, room for breakouts, wall space for hanging etc. – but that still leaves our options wide open. Then, every once in a while we stumble upon an exceptional place. Our invention session last week was held at one such place, a wonderfully creative meeting space in Chicago called the Catalyst Ranch (www.catalystranch.com). It is a welcome change from the stark consistency of hotel conference centers and corporate boardrooms. Not only is the service (and the food!) overwhelmingly good but the eclectic décor (knick knacks of varieties you would not believe!) and the pure joviality and vivacity of the space exudes energy of its own, which transfers over to its occupants. The space is a work of art in itself – one accessible to anyone and everyone. And, the feedback about the space that we got from the team at the end of the week is what inspired this post. 400 beginning ideas led to 19 high-potential solutions concepts with which we are moving forward. Much of that productivity I know we can attribute to the space!
As it happened, last week at the Ranch we overlapped with the celebration of their 9-year anniversary. We've been using them for 8 of those 9 years, and I think we both have many more years of creative collaboration to look forward to!
How have you found physical space impacts your creative interactions? Would love to hear other anecdotes! (Or recommendations for creative spaces that you've used in other cities!)